NOW IS THE TIME TO INVEST INTO THE LONGEVITY REVOLUTION.
- Gregory Hung, Head Longevity
Gregory Hung
Head Longevity
Gregory is a seasoned asset manager with over 20 years of experience and strong investment expertise across innovation equities, longevity, and alternative investments. Before joining Kaleido Private Bank, Gregory was Chief Investment Officer at an investment boutique responsible for strategies focusing on exponential technologies across various sectors and technologies. Earlier in his career, he performed due diligence for growth companies in healthcare, life sciences, and ICT, and chaired the alternative investment committee for a major Swiss bank. As a fund manager, he has a strong track record in managing multiple high-performing equity and liquid alternative funds. Gregory brings a unique blend of strategic leadership, technological acumen, and investment expertise, continually striving to uncover opportunities for growth and innovation at the intersection of longevity and technology. An accomplished athlete, Gregory also excels in personal fitness, having competed at the CrossFit World Championship twice and earning a spot among the top 20 athletes worldwide.
We're seeing revolutionary scientific progress for longevity. The time to invest is now.
A tailor-made portfolio mandate - your easy way in!
Longevity Mandate
Our innovative investment solution provides holistic access to both public and private opportunities through a tailored and flexible Kaleido mandate. We are partnering with top-tier venture capital and private equity experts to provide access to the most interesting investment opportunities in this highly dynamic field.
Our scientific advisory board plays an integral role, providing valuable guidance on the most promising developments and areas of interest. On the liquid investment side, an in-house actively managed portfolio will offer exposure to longevity via listed companies, ensuring that you are at the forefront of developments in the public markets.
You choose a mix, we take care of the rest.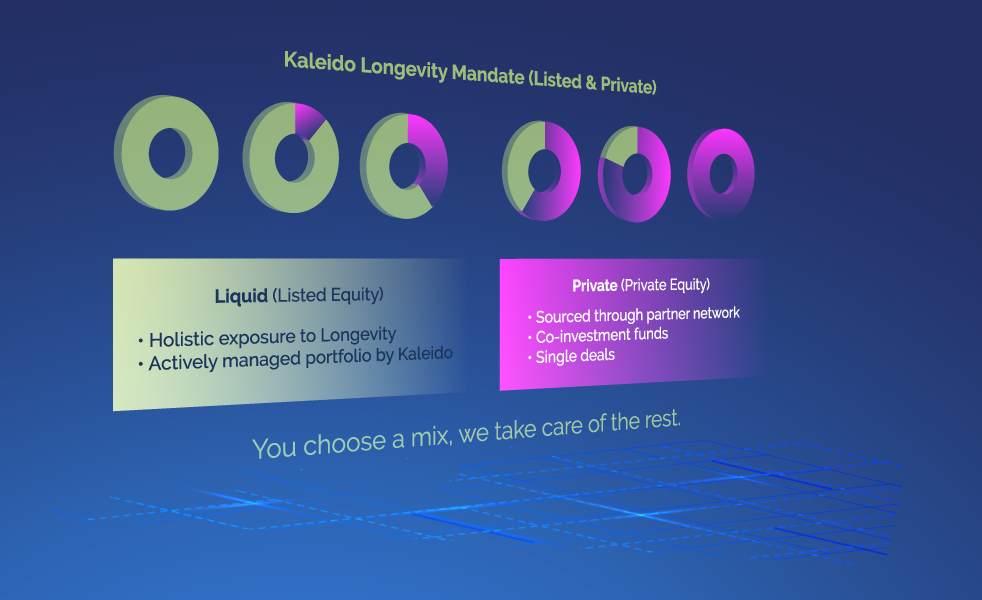 Investment Framework
As one of the fastest-growing markets, projected to reach trillions of dollars in the coming years, longevity offers a rich field of investment. The market's growth is driven by increasing consumer/patient demand and scientific breakthroughs.
We have categorized areas of investments into three main areas of interest: Medical, Behavioral, and Societal. Fields and their composition will change over time with the area of Longevity evolving.
Holistic Exposure to Structural Drivers of Longevity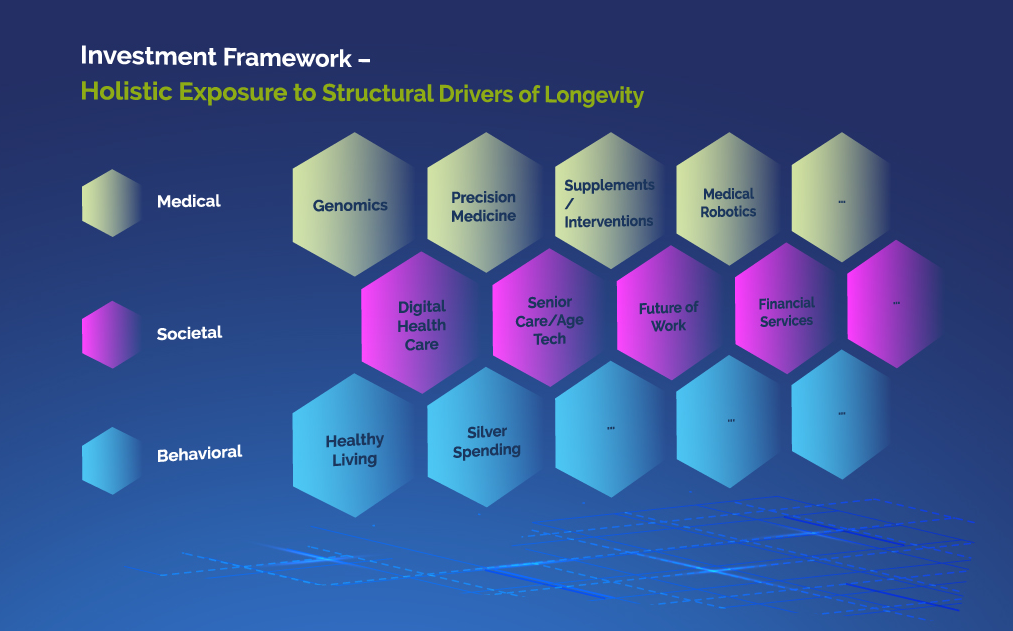 From Healthcare 1.0 to Healthcare 2.0
Healthcare 1.0
SYMPTOM TREATMENT
Today Healthcare 1.0 focuses on treating symptoms. A staggering 97% of healthcare spending is directed towards sick care treatment, leaving a meager 3% for chronic disease prevention among OECD countries. With Healthcare 1.0, interventions are made relatively late, treating age-related diseases such as heart disease or cancer in order to prolong the patient's life at a relatively low and compromised level of health.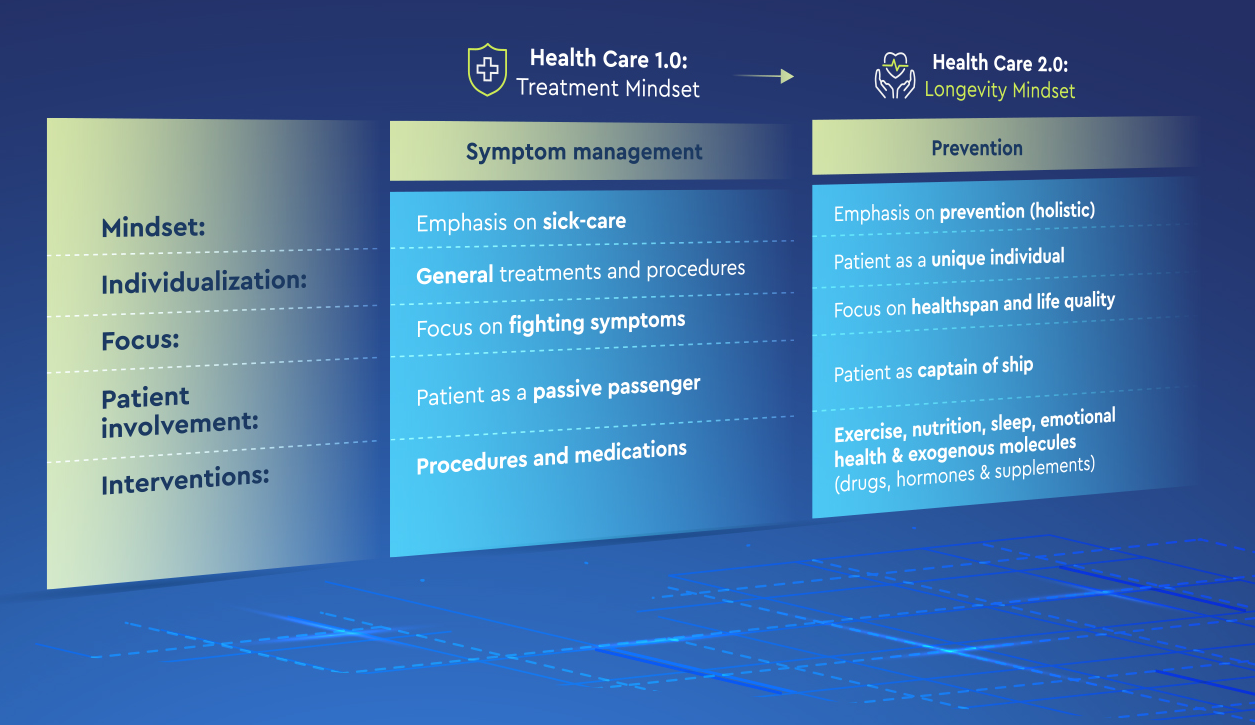 Healthcare 2.0
the new paradigm
The Healthcare 2.0 paradigm shifts the focus to optimizing well-being across all dimensions of health – physical, mental, and emotional. By empowering individuals with knowledge and the tools to make informed choices, Healthcare 2.0 is the foundation for living a long, healthy, and fulfilling life. The primary objective is to extend a person's healthy lifespan by focusing on preventive measures, rather than the current approach that intervenes at a later stage when poor health has already been established. Ultimately, longevity and Healthcare 2.0 are about improving human resilience by slowing physical, cognitive, and emotional decline, thus bridging the gap between healthspan and lifespan.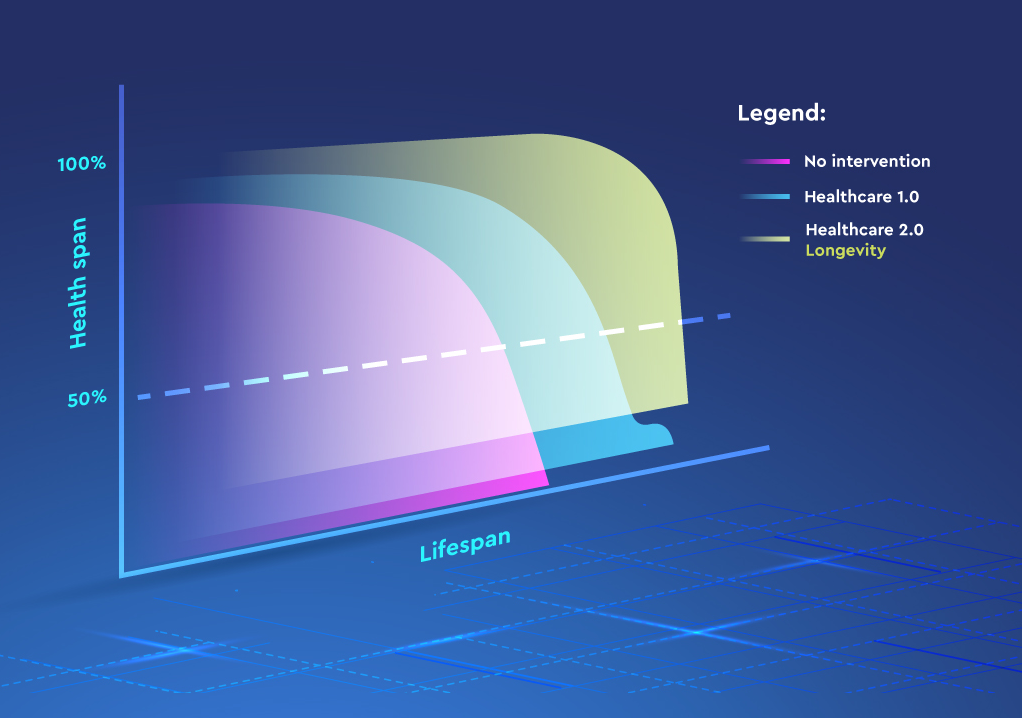 Watch my podcast!
Listen to my introduction and background of longevity becoming a big investment theme.